21 Reasons to Be a Physical Therapist
Whether you are just starting out in college, or are looking to head back to school to change careers, there are several reasons to be a physical therapist.
As with any career, there are positives and negatives to pursuing a degree with such a long time commitment, but the results can be rewarding in the long run.
1. Job Security
According to the Bureau of Labor Statistics, the number of physical therapy jobs in 2014 was 210,900, and was expected to grow by more than 34% in the next ten years.
2. Flexible Settings
There are a number of different settings a PT can work in, including hospitals, nursing homes, outpatient clinics, schools, and home health services. Being a physical therapist gives one the freedom to choose which setting is the most desirable.
3. Predictable Schedules
Because PT is not emergency-based (meaning no one needs their knee to be stretched at 2 am), one reason to be a physical therapist is that it provides a daily schedule with an absolute cutoff time, and these schedules often interact favorably with spouse's work or children's school hours.
4. You Can Leave Work at Work
Once documentation is finished, work for a PT is finished. PTs are not called in for emergency assessments. Any evaluation is scheduled during normal working hours.
5. Specialties
PTs can also choose to specialize in a number of different fields within physical therapy, including:
Cardiology/Pulmonology
Geriatrics
Neurodevelopmental training
Pediatrics
6. Comfortable Pay
One of the reasons to be a physical therapist is because of its pay scale: PTs typically make between $56,000 to over $100,000 per year, depending on the setting.
7. Good Benefits
Most healthcare jobs will provide retirement opportunities, health, dental and vision benefits, and benefits for dependents as well.
8. Title
PTs also come with a professional title, and command respect in many settings. They also have a wealth of knowledge that comes with their degree, and can use it to help others both professionally and privately.
9. Self-Employment
PTs also have the option of being self-employed, or owning their own business. This is one of the main reasons to be a physical therapist over a PT assistant, as PTAs are unable to own their own business and have to work under the license of a PT.
10. Helping Others
Being a physical therapist would not be what it is without helping others. In fact, one of the main reasons to be a physical therapist is that it comes with a personal commitment to helping others, and huge personal rewards when goals are accomplished.
11. Education
Part of being a physical therapist means you never stop learning. Continuing education is required every few years (based on state licensing requirements), and there are constantly seminars, journal articles, and online courses designed to keep PTs up to date.
12. Meeting Interesting People
Depending on the setting, the patient load can be incredibly diverse and give therapists a wide variety of experiences, between helping an elderly woman recover from a stroke or joint replacement surgery, to manually stretching limbs of a severe burn victim, to teaching a developmentally delayed child how to walk so he can play with his peers. Each experience is inherently different and not without its challenges, but one of the main reasons to be a physical therapist is that it provides a large enough framework that therapists can be flexible in their career choices.
13. Lifelong Friends
Through 6-7 years in PT school, education alone provides a medium for making lifelong friends. Business partners, coworkers, and students of graduated physical therapists can also become powerful relationships.
14. Shaping the Future
Early physical therapy practices began in the late 19th century and did not start gaining traction until polio outbreaks and World War I in the early 20th century. Since then, the field has grown significantly and is now widely recognized and supported by evidence-based practices. Continued research to assist in the rehabilitation of cancer patients, stroke victims, and strategies for rehabilitation of leser-known ailments provide further relief to those who are facing hardships. Being a physical therapist can change the world for these patients and ease their suffering one day at a time.
15. Traveling
There are several resources for therapists who wish to travel and assist patients in high-need areas in the U.S. and around the world, including:
The Internation Committee of the Red Cross
The Bureau of Indian Affairs
Doctors Without Borders
Global Health Council
Peace Corps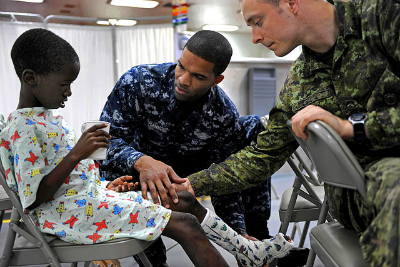 16. Getting a Job Anywhere
In addition to travel opportunities to work with others in need, PT jobs are in demand everywhere, and because it is growing, being a physical therapist means PT graduates will not have a difficult time searching for work.
17. Personal Fitness
Because transferring or training patients is often required, PTs must—and do—stay in shape in order to work well with patients. Instructing others in exercises while also performing them means PTs do not have to worry about the gym. One of the reasons I got into PT was because I had a ankle injury while playing basketball. While searching for an ankle brace that would allow me to keep playing, I was intertesed in how I could prevent it in the first place
18. Getting Ideas
Through continuing education and working with peers, therapists can get ideas for their own personal fitness, leading to more well-rounded physical health. Many reasons to be a physical therapist stem from desires to be physically fit and healthy.
19. Staying Injury-free
As far as many careers go, physical therapy does not have an immense impact on a practitioner's body. With most things, there are ways to hurt oneself within the PT practice; however, PT schools typically cover body mechanics and other methods for avoiding injury on the job. As you may spend a lot of time bending over and possibly experience mid / upper back and shoulder strain, wearing a good supportive brace can make a difference. Just as you care for others, it's vitally important you take good care of your own body for better well being. Compared to a blue collar job, PT is relatively injury-free.
20. Relaxed Clothing
Unlike nurses and doctors who may wear scrubs or stiffy clothes, PTs can dress in a manner that will allow them to move and work comfortably with patients.
21. Staying Away from a Desk
Whatever the setting, PTs can easily avoid a boring desk job. Even if they choose to own their own clinic, many PTs still continue to treat patients and oversee employees, meaning they are moving around and continuing to stay active throughout the work day.
Reasons to be a Physical Therapist
Overall, there are many reasons to be a physical therapist, including positive job outlook, health and fitness goals, flexibility in a career, and being able to make a difference in a person's life.
Sources
http://www.bls.gov/ooh/healthcare/physical-therapists.htm
https://collegegrad.com/careers/physical-therapists