21 of the Best Physical Therapy Student Blogs
In order to better prepare for the difficulties of PT prerequisite courses and graduate school, reading a physical therapy student blog can provide insight into new practices, tips for studying, the best schools for physical therapy, and anything else one might need to know when getting into the PT field.
Based on quality content, consistent posting and information, here are 21 of the best physical therapy student blogs and PT professional blogs on the internet, in no particular order.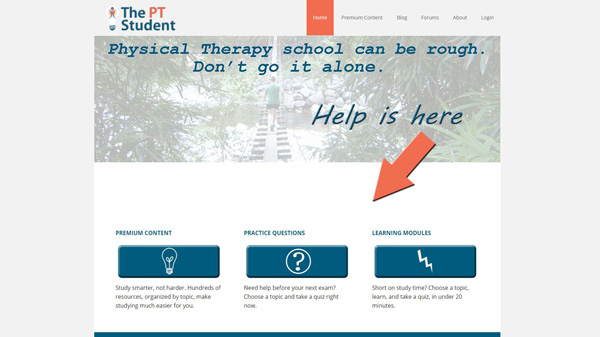 The PT Student is a physical therapy student blog that offers tips and tricks for studying, sample test questions, information on PT/PTA schools, and a forum which gives students and graduate physical therapists/assistants a place to discuss challenges or other concerns regarding physical therapy.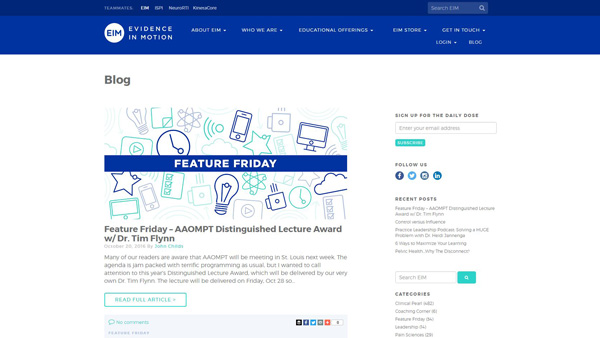 This site presents a blog with contributions by a number of physical therapists on new practices, the best states to work, managing special patient cases, helpful podcasts, and additional relevant tips. It also offers continuing education courses, ebooks, and certification tracks for PTs who wish to further their education after graduation.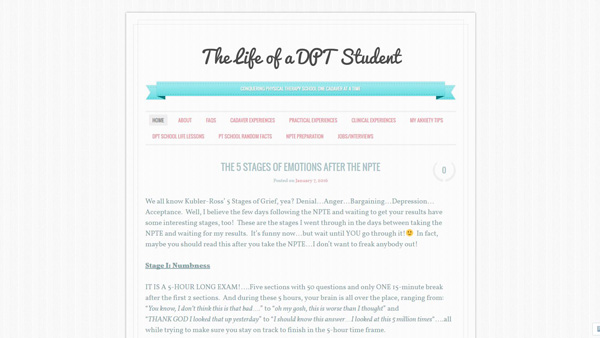 One physical therapy student blog that follows a DPT student named Candace during her time in PT school. She outlines the strategies she used for studying for the NPTE, dealing with anxiety, cadaver and clinical experiences, and the overall life lessons she learned from DPT school.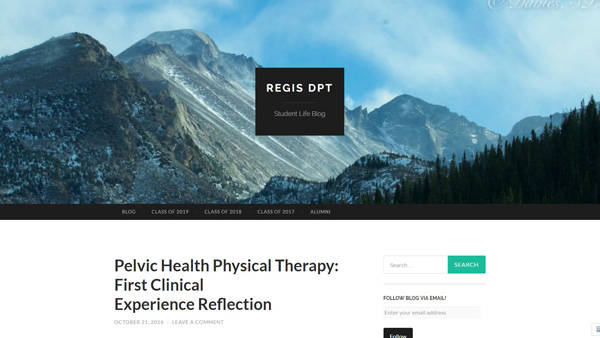 4. Regis DPT
A physical therapy student blog that follows several DPT students through their time in PT school, which doles out tips and advice from many of the top physical therapy schools. They provide insight into working during school, how to study effectively, and what life is like for individuals during grad school.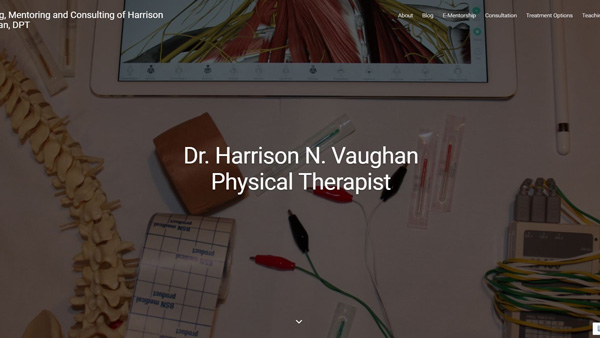 5. In Touch PT
Harrison Vaughan, DPT blogs about treatment tricks, approaches to treating specific deficits, job postings, and clinical education seminars that are available in order to further education.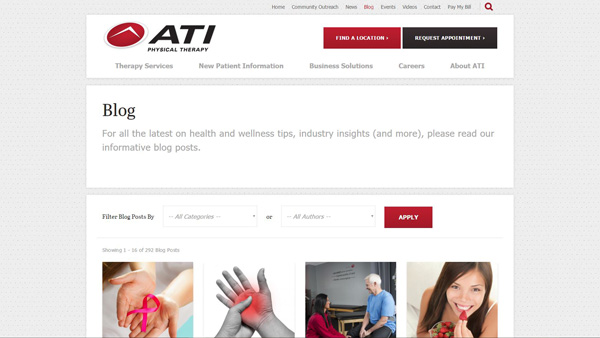 ATI strives to produce insight into health and wellness, specific body part rehabilitation, injury prevention, and patient stories among many other blog topics. It is an excellent source for industry information and furthering understanding for PT students and therapists alike.
7. The Federation of State Boards of Physical Therapy
The FSBPT administers the National Physical Therapy Exam which allows for standard testing throughout the U.S. Their site has information on testing dates, how to prepare for the test, licensure guides, and statistics on best schools for physical therapy as well as test stats.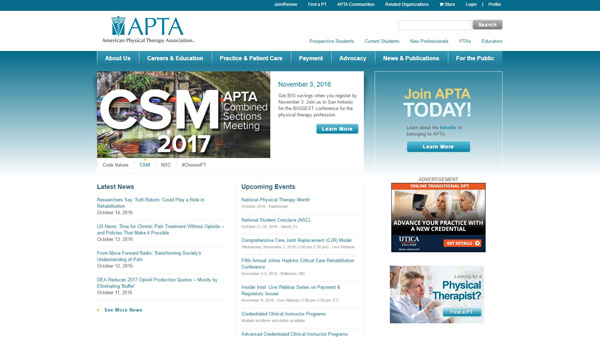 8. The American Physical Therapist Association
The APTA has both a member and a student section which allows individuals to access information on careers, advocacy, latest news and publications, information on the best schools for physical therapy, and additional licensing information. They also have a physical therapy student blog specifically for current students.
9. Performance Physical Therapy
A site for a professional PT clinic which also offers informative blog posts that are updated multiple times a month. It includes content on treating pain, professional athletes, and treating common injuries among other relevant topics.
A professional PT's blog including topics on specific training for a variety of different muscle groups, which includes a podcast where he answers specific questions from comments on his site. This may be helpful for specific practice-based questions.
Your Therapy Source is a therapy blog based on the pediatric specialty. It provides insightful blog posts several times a week and includes continuing education opportunities. They also have a monthly magazine subscription and offer printable resources for any pediatric PT clinic.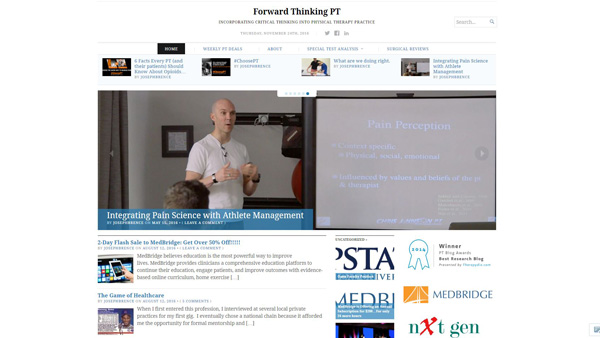 A site dedicated to providing up to date information on PT practices for a multifaceted approach to treatment. It was also the winner of the 2014 Best Research Blog by therapydia.com.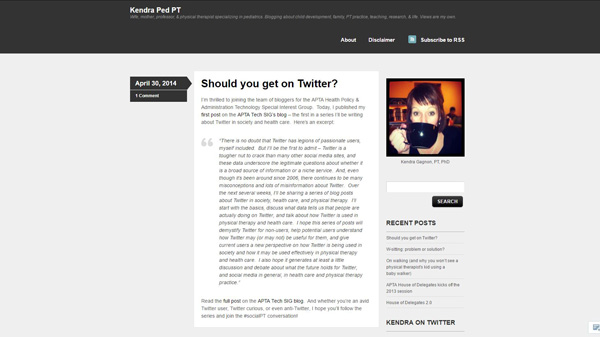 13. Kendra Ped, PT
Kendra is a pediatric physical therapist whose blog focuses on PT related politics, pediatric physical therapy, and tips for caring for young children/infants/toddlers. It is especially helpful to parents raising children with physical pathologies and for PTs that may encounter them.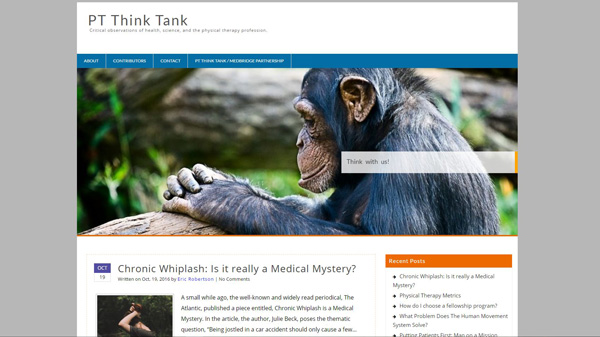 14. PT Think Tank
PT Think Tank blogs about new physical therapy practices, science, and technology in PT, with a focus in evidence-based practices.
15. Cyber PT
Cyber PT is a physical therapy student blog that offers forums to ask a PT, discuss current PT trends, find PT jobs, find the best schools for physical therapy, and discover pertinent information on conditions, treatments, and exercise related to specific pathologies.
16. Running Physio
Running Physio is a blog which focuses on running injuries, training advice, and general PT practices related to running.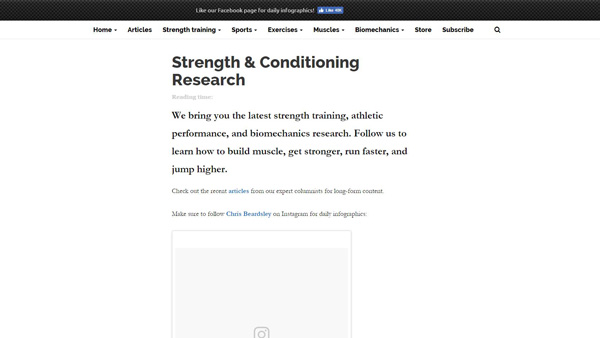 17. Strength and Conditioning Research
From their site: "the S&C Research team are dedicated to summarizing all of the latest strength training, athletic development, physique enhancement, and biomechanics research, leaving you more time to create training programs that work."
18. BioMed Central
A site designed to give both students and professionals access to 250+ peer-reviewed journals in a variety of medical fields, including physical therapy. This may be helpful to a physical therapy student blog in providing sources and perception into new practices.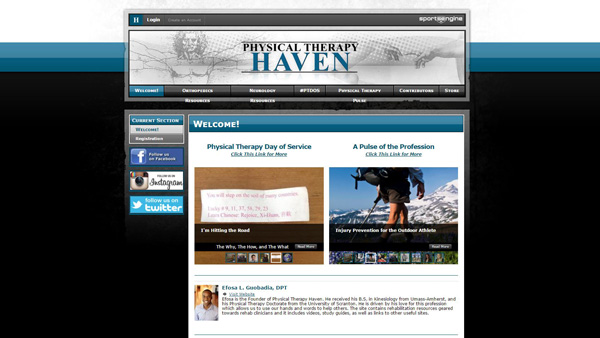 Provides access to information on orthopedics and neurology, and is a place for PT students and practitioners to share what makes inspires and motivates them within the field of physical therapy.
20. Academy of Geriatric Physical Therapy
A subset of the APTA, this blog focuses on geriatric physical therapy, providing information on practice updates, jobs, political changes affecting PT, and also provides resources for continuing education for physical therapists.
21. Physiospot
Physiospot contains job postings, continuing education courses, and blog posts on recent updates or findings within physical therapy. It also offers the Physiopedia reference, which provides "universal access to physiotherapy and physical therapy knowledge, [and] a collaborative community project to education and professionally develop".
Overall, there is a plethora of available blogs that can satisfy those who are curious about physical therapy. A physical therapy student blog will especially help to answer the questions of what might lay ahead in PT school, but many others have value in reminding a student what the degree is all about, and can provide additional resources and information to supplement learning.