Physical Therapy School Interview: Questions and Answers
Prior to entrance into physical therapy schools, administrators may perform interviews in order to choose the ideal PT students for their programs; such physical therapy school interview questions and answers may be stressful, so it is best to be prepared and aware ahead of time.
Below is a list of 5 physical therapy school interview questions and answers that may be helpful to know.
#1: Why do you want to be a physical therapist?
Maybe it is a love of helping people. Maybe it is because your grandparent was sick once and made a miraculous recovery thanks to PT. Maybe physics and the distinct way people move interests you to no end.
It is not about money, it is not about a backup plan because med school was full. It is about the people, or the betterment of society, or something along the lines of helping others and the personal fulfillment that accompanies it.
Knowing the principles of physical therapy might help to answer this question. Under the Code of Ethics for the Physical Therapist, Principle #2 is: Physical therapists shall be trustworthy and compassionate in addressing the rights and needs of patients/clients.
Being a physical therapist is about having compassion and treating others in order to better their lives and health. Choose a reason that falls in line with both PT goals and personal goals.
#2: How do you deal with stress?
Of all of the physical therapy school interview questions and answers, this one is probably the most beneficial for the student to answer him or herself, even if it is not asked in an interview.
PT school may possibly be the most stressful time in an individual's life, and having a plan or tactic to dealing with stress can be incredibly effective in managing coursework and additional pressure.
If you don't already have a plan for reducing stress, come up with one. Possible methods include:
Making lists
Meditating
Running/ working out
Keeping a personal calendar
Dedicating time for relaxation (reading a book, watching TV, spending time with friends)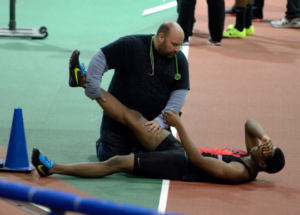 #3: Do you have any previous experience in PT/Medicine?
This is where you can discuss your volunteer/observation locations or any other community work you have done in the past. It may be a good idea to continue volunteering even after the necessary hours have been logged, both to gain more exposure for yourself, and to seem more favorable to interviewers.
Highlighting which portions of these experiences were beneficial or difficult may also show how you can handle challenging situations and conduct yourself in a professional manner. Physical therapy school interview questions and answers are based on professionalism and handling yourself under stress.
#4: What do you think is the most challenging aspect to being a physical therapist?
This is a difficult question to answer, especially because being a physical therapist has so many aspects that may be challenging for one person but relatively simple for the next.
Difficulties may include long hours, documentation, aggravating patients (including those who are not adherent to home exercise programs), or having to see people in pain. It is one of many challenging physical therapy school interview questions, and answers will differ depending on the individual.
One way to answer this question honestly and personally is to think about the most difficult situation during your time volunteering and focus on why it was so demanding. Also try to speculate on how you might solve these problems in the future.
For instance, having to see people in pain is exacting for some, but remembering that pain is mostly temporary can push both the PT and patient through hard times.
Having experience with patients who have gone on to lead happy, healthy lives after going through extensive pain can also make these instances more bearable, as it is proof that pain can be alleviated and patients can recover.
#5: What accomplishments are you most proud of?
Here is where you get very personal. Dig deep and think, honestly and truly, about the times you felt most accomplished. Was it when you got your undergrad degree? Why? Maybe you were the first person in your family to achieve this.
Maybe you had a bad childhood, and when you were young you determined you would make a better life for yourself than your parents had, and this degree was the proof that you were doing it. Or maybe it was when you helped raise money for a charity, and you earned that satisfaction from helping others because you made a difference in another person's life.
Maybe it was getting a passing grade in a class that you struggled in, but were able to overcome the challenges it posed by remembering what the end goal was: being a physical therapist.
Physical Therapy School Interview Questions and Answers: Overall
Again, keep it personal. Physical therapy school interview questions and answers are constructed to determine your character and how you may fit in the program. Most of the time interviewers can tell when you are being impersonal or insincere.
Tackling negative topics by truly analyzing them and turning them into positive learning experiences can show interviewers how you handle situations. Staying optimistic but true to yourself is the key to these conversations, because physical therapy school interview questions and answers are designed to test whether you have what it takes in the long run.
Sources:
http://forums.studentdoctor.net/threads/typical-dpt-interview-questions.578346/
http://career.utk.edu/CS/wp-content/uploads/pdf/Physical-Therapy-School-Interview-Questions.pdf