A Day in the Life of a Physical Therapist Assistant
Both physical therapists and physical therapist assistants have a job rooted in helping others and treating ailments through exercise. Although their jobs are very similar, physical therapists and physical therapist assistants have differing responsibilities; a typical day in the life of a physical therapist assistant will see different progressions than that of a physical therapist.
Overall Responsibilities
Both PTs and PTAs are in charge of treatment and performing patient documentation. Treatment may include instructing in therapeutic exercise, performing manual therapy, administering modalities (such as electrical stimulation, traction, ultrasound, etc.), and educating in precautions and risk factors for certain conditions.
The major differences between an assistant and a therapist, however, are the abilities to establish care and change treatment plans.
Therapists are responsible for diagnosing the patient and outlining the plan of care to be followed. They will reassess after a predetermined number of days to ascertain whether they will continue, change the plan, or discharge the patient. Therapists or therapist assistants will follow this plan and are in tasked with assessing the patient during routine visits to determine if the patient is responding positively.
Day to Day
Individual responsibilities differ based on setting as patient caseload, level of autonomy, and resources can vary widely in a day in the life of a physical therapist assistant.
Outpatient Clinics
Outpatient clinics are designated for those who do not require significant medical care but are able to travel to and from treatments. They may offer a more independent or higher-functioning patient base for PTAs to work with.
These patients can be seen anywhere from 30 minutes to an hour depending on the clinic, and clinics are typically open during normal business hours (anywhere from 7 am to 6 pm), although some offices are open for longer hours or even weekend days to accommodate patients who are also employed.
Patients schedule appointments prior to being seen on a given day, so case loads are fairly rigid and therapists have predictable work schedules.
A day in the life of a physical therapist assistant at an outpatient clinic may involve completing whole treatments for a single patient, or seeing a patient for a portion of their treatment while the physical therapist assesses during the other portion.
Because a physical therapist is responsible for his or her assistant, they typically remain close by during treatments in case there are any questions or adverse reactions from the patient.
Skilled Nursing Facilities
A day in the life of a physical therapist assistant at a skilled nursing facility is less concrete. At many SNFs, therapists and assistants alike are given their daily list of patients to see; these include information such as:
Patient name
Patient date of birth
Patient room number
Diagnoses
Amount of time to spend with patient
With this information, therapists must plan their day and treat patients accordingly. This can often be difficult, as some patients prefer morning appointments, some just after lunch, some later on in the day, etc., and many are in pain or fatigued and refuse therapy.
However, working with patients consistently means therapists are able to establish a rapport and get to know what motivates and pushes individuals to do their best.
Specific tricks to handling therapy refusals can be found in a physical therapy assistant blog. PTAs may also frequently interact with nurses or nursing assistants to plan the best course of action for a patient, get assistance in transfers, and determine a possible schedule.
Lunch breaks for therapists at a nursing home are not typically scheduled, but are usually taken while patients are also eating. Many therapists and therapist assistants may additionally use the time between lunch and treating their next patient to document on previous patients.
When the patient list is complete, or if it is otherwise incomplete (patient refusals, patient away from facility, etc.), the physical therapist assistant is finished for the day. Rehabilitation services are usually offered 24 hours a week, so PTAs may find themselves working weekends and holidays to provide care. Other times on call staff can be contacted to cover these shifts.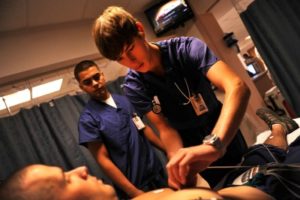 Hospitals
A day in the life of a physical therapist assistant in a hospital is very similar to a nursing home. in that therapist assistants must interact with a variety of staff members, and may have to build their schedules around patients' desires or other appointments.
Because hospital patients are so acute, this may pose serious difficulties because the number of refusals are typically higher. However, acute therapy is so important that goals are more intense and treatment times last as long as the patient can tolerate. A physical therapy assistant blog writes that acute treatment is targeted to be over 3 hours for a patient in a rehabilitation hospital setting.
Home Health
Unlike outpatient, skilled nursing, and hospital therapy settings, a day in the life of a home health physical therapist assistant includes much more autonomy. If the PTA has a question, the therapist can be called or emailed, but are usually unable to see the patient the same day due to the PT keeping their own schedule.
Many home health companies also have nurses, occupational therapists, and social workers that the PTA might interact with on a daily basis. In addition, therapists have fewer resources (weights, machines, modality equipment) as they are typically difficult to move.
Patients who are eligible for home health are usually medically stable and able to live at home safely (although many may need caregiver assistance). However, they are unable to safely or comfortably commute to outpatient services, and for this reason they are considered "homebound". The PTA must assess the living situation for safety at each visit.
Depending on the region, commute times make up a huge portion of the home health PTA's day. As with other settings, there is also a significant portion of time devoted to documentation and commnication with other specialties.
Home health PTAs typically have a more flexible schedule, however, and personally call patients to set up appointments and schedule themselves breaks accordingly. Many companies also hold regular meetings for case conferences and to discuss patients.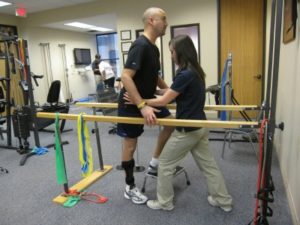 A Day in the Life of a Physical Therapist Assistant
Overall, based on the wide variety of settings a physical therapist assistant can work in, there are no set expectations for the daily life of a PTA. There are many resources out for physical therapy assistants seeking answers, and one does not have to go far to find a physical therapy assistant blog that outlines exactly what a day in the life of a physical therapist assistant is like.
Sources:
http://www.apta.org/PTACareers/Overview/
http://www.ptaguide.org/a-day-in-the-life-of-a-physical-therapist-assistant/