How to Become a Physical Therapist in Florida
Although many physical therapy programs across the U.S. have similar requirements for entry, the methods of becoming a physical therapist can differ; below is how to become a physical therapist in Florida.
Step 1: Get an Undergraduate Degree
Because PT programs in the U.S. are doctorate degrees, an undergraduate degree is required prior to admission into PT school. Physical therapy programs also have their own prerequisite courses that must be taken so that the student has a basic knowledge of math, anatomy, writing, etc. These courses may include:
Statistics
Biology
Psychology
Human Anatomy
English 101
Chemistry
Many of the best schools for physical therapy also offer pre-PT bachelor's degrees designed to meet physical therapy prerequisite requirements as well as a set amount of credits to make up a bachelor's degree. Many schools will also offer specific guidance on how to become a physical therapist in Florida.
Step 2: Apply for PT School
Volunteering
In addition to a bachelor's degree, PT programs require additional experience volunteering at a physical therapy clinic, nursing home, hospital, etc. The University of Miami, for example, is one of the best schools for physical therapy in Florida, and requires 100 hours of experience in at least one PT setting.
Having several different volunteering locations may be even more preferable, as they can show varying experiences and give a student an idea of the different facets of physical therapy.
GRE
The GRE, or Graduate Record Exam, is an aptitude test similar to the SAT or ACT that measures skills such as critical thinking, verbal and quantitative reasoning, and analytical writing skills. It must be taken at a pre-approved testing location on an arranged date, and is most often taken on a computer.
The verbal and quantitative tests are graded on a scale from 130-170, and the writing portion on a scale from 0-6. Average scores are considered to be around 150 for verbal and quantitative, and 3.6 for written.
The University of Miami and University of Central Florida, two of the best schools for physical therapy in Florida, both require scores of over 144 for quantitative reasoning, 146 for verbal reasoning, and 3.0 for the analytical writing portion.
Letters of Recommendation
Making connections and leaving an impression on volunteer preceptors, previous professors, and past employers will make asking for letters of recommendation much easier.
Establishing these professional relationships is an important step in the process of how to become a physical therapist in Florida as well as any other state.
Many colleges require this as a portion of their application process, and many request several letters from multiple perspectives, be it professional, personal, or educational.
Step 3: Obtain a DPT
Prerequisite courses and volunteer hours are just the stepping stones in how to become a physical therapist in Florida: PT school is as much or more of a challenge. Here, courses are designed specifically for the workforce, covering topics such as:
Musculoskeletal disorders
Neurological disorders
Modalities
Treatment of disorders
Pathologies
General dysfunctions
The program is typically three years, and includes several months of hands-on clinical training as well. The three best schools for physical therapy in Florida require at least 32 weeks of clinical internship in addition to the base coursework offered during physical therapy school.
Step 4: Take the NPTE
The NPTE is the National Physical Therapy Examination, a test which remains the same throughout the U.S. (making licensing between states easier to regulate) and determines whether students have adequate knowledge of physical therapy practices.
Students are required to have a DPT in physical therapy first, but the test has been put in place to determine PT education is (for the most part) universal, and that students have enough knowledge to treat patients across the nation.
This is the qualifying step in how to become a physical therapist in florida and throughout the U.S.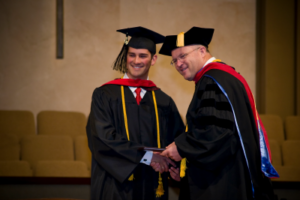 Step 5: Get your License
Students who have taken the test and are waiting to be licensed in Florida must have their scores reported to the Federation of State Boards of Physical Therapy. In the meantime, official transcripts from a DPT program must be sent to the Florida Board of Physical Therapy, to show that schooling has been completed at an accredited program.
An official application for Licensure can be filled out here: http://flhealthsource.gov/mqa-services. They may also have additional information on how to become a physical therapist in Florida.
Once all of the scores, transcripts, and additional information has been recorded, the state will grant the physical therapy license, and graduates can officially start working as a PT! Although it is difficult and long, the process of how to become a physical therapist in Florida is worth it to those willing to work hard.
Sources:
http://flhealthsource.gov/mqa-services
https://www.ets.org/gre/revised_general/about/?WT.ac=grehome_greabout_b_150213