Getting into Physical Therapy School with Low GPA
Because it is one of the most competitive graduate schools to apply to, getting into physical therapy school with low GPA is difficult, to say the least.
However, GPA is not the only factor that PT schools consider when admitting students. Below is a list of additional qualifications that might improve the chances of getting into physical therapy school, even with low GPA.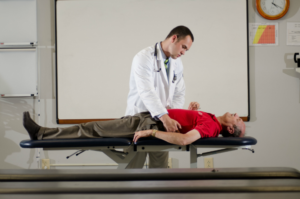 Physical Therapy/Medical Experience
When considering applicants, many schools take previous medical experience into account, as they are looking to produce graduates who are confident and responsible. It is also typically required to have a predetermined number of observation hours so that students may be aware of what they will be exposed to in PT school.
Generally, multiple locations with a wide range of exposure is favored compared to limited work hours at a single location. It also helps students realize what being a physical therapist entails on a day to day basis.
Volunteering
Volunteering in general is advantageous to applicants, as it shows program officials that you are willing to work as a team, put in time and effort for something without an immediate payoff, and can possibly hold a leadership position. Volunteer positions can also be included on a resume upon graduation.
Being a physical therapist involves helping others without instant gratification. Application reviewers want to make sure students are interested in the program, not just for the sake of a well-paying career, but also because they care about people.
References
Many schools also request references in the application process as well. Having professional references will increase chances of getting into physical therapy school with low GPA. References coming from previous professors, volunteer coordinators, or observation preceptors further highlight the accomplishments, work ethic, and overall character of the applicant.
Letters of Recommendation from references can highlight positive, hard-working attributes of individuals who may otherwise be lacking on paper.
GRE Test
Students interested in being a physical therapist will also have to take the GRE—or Graduate Record Exam—in order to apply to PT graduate schools. This test is split into three basic categories of test questions:
Analytical writing
Verbal reasoning
Quantitative reasoning
It is utilized to determine whether an individual possesses higher level reasoning skills needed to do well in graduate school.
The test sections take approximately 30 to 90 minutes for each portion. This test is very similar to the SAT or ACT, in that it measures skills that mature over time. It is for this reason that many students begin studying at least several months in advance.
As with other application processes, each school may weigh the scores differently, so it may be advantageous to research schools that may view GRE scores over GPA. Having a high GRE may produce better chances of getting into physical therapy school with low GPA.
Entrance Essay
For first-time applicants, a personal statement or a supplemental essay may be required in order to gain admission. Personal statements are in-depth essays on the candidate and what might make them a good fit for any particular program. Additional topics may cover why the student is applying, what made them want to be a PT, who has inspired them, etc.
A supplemental essay, on the other hand, presents a specific prompt that students must answer, but if worded and organized correctly, can rectify certain unfavorable circumstances which may increase the chances of getting into physical therapy school with low GPA.
After all, being a physical therapist is not about grades, but about the effort put forth in learning and helping others. Outlining oneself favorably in spite of a low GPA may improve the outlook of grad school admission.
According to the Physical Therapist Centralized Application Service (PTCAS), common essay prompts include questions such as:
"Describe your decision making process in choosing physical therapy as a career choice versus other health care careers."
"APTA's vision for physical therapy is 'Transforming society by optimizing movement to improve the human experience.' How will you embody this vision as a future physical therapist?"
"What personal characteristics and motivating factors have led you to pursue the profession of physical therapy?"
Interview
Following the formal written application process, there may sometimes also be an interview between members of the admissions committee and the applicant. (If this is not so for a particular school, it is possible to word the entrance essay so that it may answer any questions that might be posed in an interview.) Interview questions may include:
What are your greatest strengths and weaknesses?
Why did you choose this program?
What made you want to be a Physical Therapist?
What is the most difficult thing you have ever done?
How would you handle ____ situation?
There is no way to truly prepare for an interview question, as it is impossible to determine which questions will be asked. However, it may be helpful to go over possible questions and what the honest answers may be. It may also be auspicious before entering the program to have these questions answered for yourself.
It is easy to become discouraged when schooling is difficult, and knowing what makes the program worth doing is an excellent motivator for the future.
Graduate school PT programs are searching for those students who will represent their schools by being a physical therapist, and make excellent clinicians in the future. To find such, they must offer a well-rounded system for admitting.
Although it is difficult, getting into physical therapy school with low GPA is not impossible: with a lot of polish and hard work, it can be accomplished.
Sources:
http://www.apta.org/ProspectiveStudents/Admissions/PTProcess/
https://www.petersons.com/graduate-schools/gre-test-description.aspx#/sweeps-modal
https://www.facebook.com/PTCAS/posts/440780109277123